Jan 24, 2022 Shopify API
Sensibo and Alarm.com Integration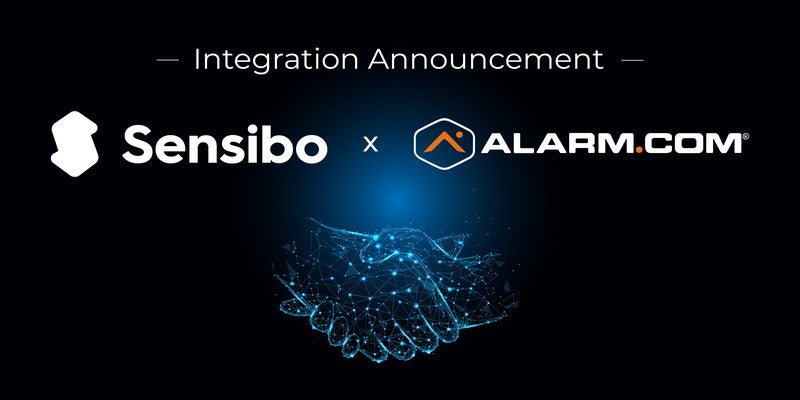 Washington DC and Tel Aviv, January 24, 2022 – Sensibo, the leading Climate Tech company and Alarm.com, the leading platform for intelligently connected homes, announce a technological integration connecting smart home features for improved comfort and energy savings.
By combining these two technologies, users can utilize Sensibo's smart controller via Alarm.com's platform or mobile app to manage ductless mini-split units.
Sensibo's full Alarm.com integration lets users manage their split AC units & Heat Pumps from the Alarm.com app via Sensibo Smart Controllers to save energy without compromising comfort.
 About Sensibo
Sensibo develops leading technological solutions for smart climate management, including pollution monitoring and air purification, in homes, offices, public buildings, and more. The company's products, which are installed in hundreds of thousands of homes and businesses around the world, lead to both a decrease in energy use and an increase in monetary savings. Sensibo's products bring efficiency to air conditioners, which are otherwise responsible for 33% of the world's energy use and factor significantly in climate change-related emissions. The company was founded in 2013 by Ran Roth and Omer Inbar, two tech mavens. Products include Sensibo Sky, Sensibo Air, Sensibo Pure and most recently, Sensibo Elements. All are installed easily, connect to all ACs, and and may be remote controlled via mobile app, along with full integration with Google Assistant, Alexa, Siri and Apple HomeKit.
For further information please contact
Mira Marcus | PR, Sensibo | mira@sensibo.com
Sign up & save 10% on your first order!
Stay up to date on the latest sales, product releases & news
About Sensibo
Comfort on a Global Scale. Making homes more comfortable today to ensure our planet stays comfortable for generations
More from Sensibo
About the Author
Ran Roth | CEO & Co-founder
Ran Roth is on a mission to better the world by bringing smart sensing & AI to indoor climate & air quality. With more than a third of the world total energy going into cooling and heating and with airborne viruses and pollution on the rise, Ran has committed to bring a fresh data driven IoT approach to the fields of HVAC & IAQ.
About the Author
Joey Mezistrano -Product Manager
Joey Mezistrano is Product Manager at Sensibo.